Are you looking for somewhere to host your Rehearsal Dinner? Azaleana Manor is the perfect Rehearsal Dinner Venue with an unmatched waterfront view.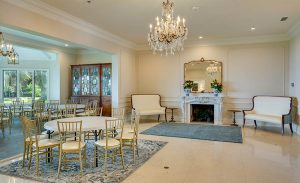 The Rehearsal Dinner is a special part of all wedding planning. This is a time where the Bride and Groom can spend personal and quality time with their closet family and friends all at the same time and the same place. A time where everyone can get to know each other better. Your family and friends can enjoy a delicious dinner, have some cocktails and relax any pre-wedding tension. Your Rehearsal Dinner gives you a better chance to have relaxed one on one time with your family and friends.
Your Rehearsal Dinner is all about having fun and relaxing before the Wedding Day. There are no limits on what you can do for your Rehearsal Dinner. The best place be to select for your Rehearsal Dinner is an all-inclusive venue. This way you have very little to worry about and gives you a nice break from the myriad of details on your wedding day. Azaleana Manor can offer you just that. You select the catering and food items from our list of preferred catering vendors and we provide all the tables, chairs, tablecloths, and much more! Your guests can enjoy the historic setting with a great view of the St. John's River.
Take a Tour of Azaleana to discover how it may be the perfect venue for your next event.
Our number one goal is to make sure you and your guest enjoy your special event and have fun! Contact us today for information on how you can host your Rehearsal Dinner with us.