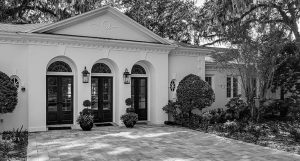 Azaleana Manor was been purchased and renovated by the owners of the nearby property, Winterbourne Inn on the St. Johns. Much like Winterbourne Inn, Azaleana Manor is a stunning waterfront Jacksonville wedding venue located right on the scenic St. Johns River.
The present owner is only the 3rd owner of this mansion. The land was part of the Winterbourne house next door. When Karrie Ferguson died in 1951 the land was sold and the main house was built. In 1982 another prominent family bought the property and more than doubled the size of the original house to its current 10,000 square feet on one level. The garage apartment was added at the same time. The 4 acres of land remains with the brick walkway around the property, the oversized metal ivy lines archways, fruit trees, camellias, and of course beautiful pink azaleas all enjoy the backdrop of the stunning and scenic St. Johns River.
If you're looking for a destination wedding to remember, contact us to talk to us about hosting your event at Azaleana Manor.